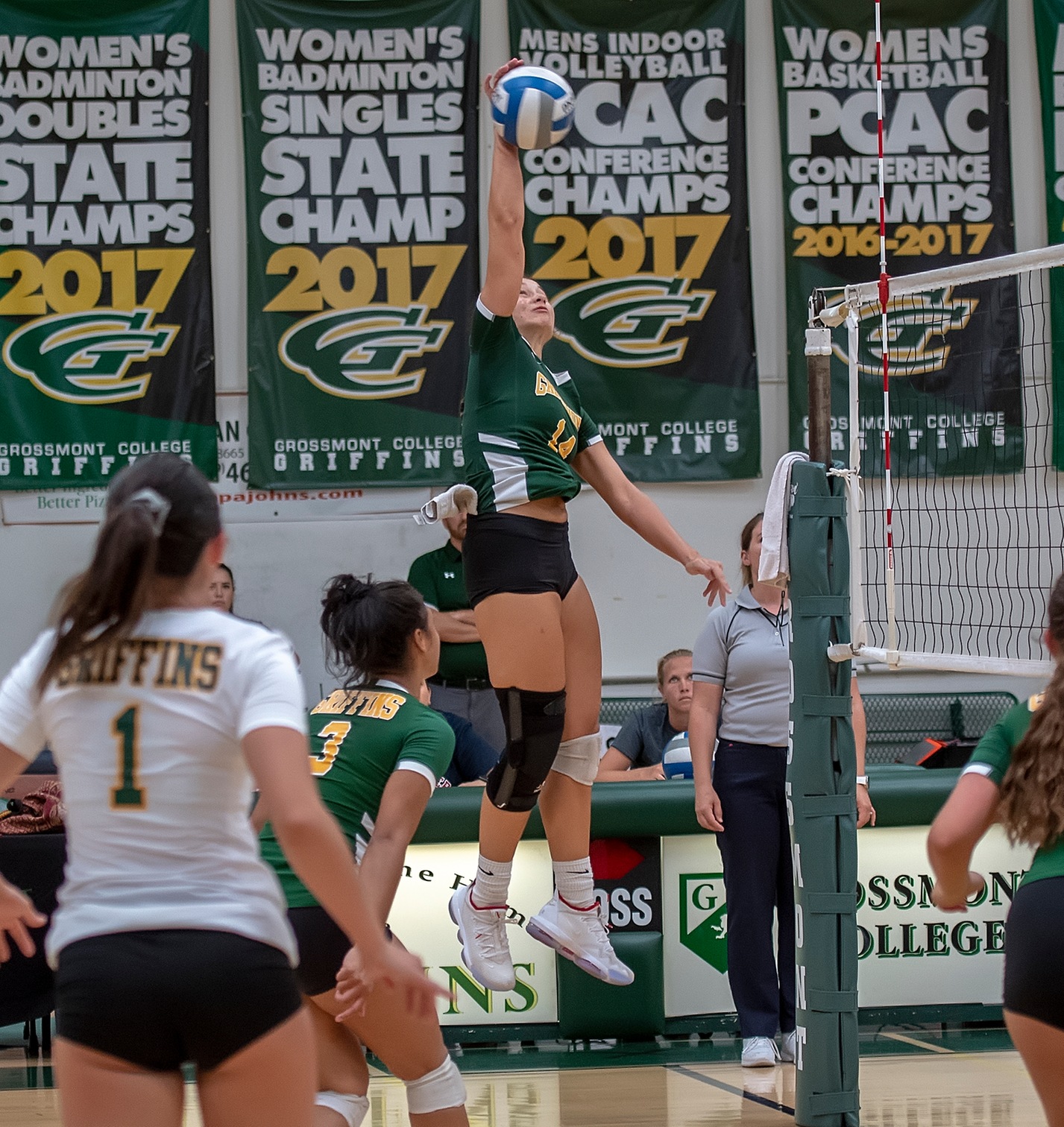 Grossmont College women's volleyball is on an eight game win streak after its most recent win against Cuyamaca College.
The Griffin women have consecutively defeated Citrus, Southwestern, Imperial Valley, Fullerton, College of the Desert, Miramar and Palomar Colleges. They defeated Cuyamaca College Wednesday, October 2.
Grossmont College women's volleyball hosted Cuyamaca College Wednesday in its fifth conference match-up of the season. The women won in three sets.
The first set started with a Griffin six point lead and a handful of service aces from #3 Naomi Talisa Leilua (2), #25 Nellie Escandon (2), #4 Haley Morton (1) and #5 Brooklyn Anderson (1). The first set ended very quickly, 25-13 to the Griffins.
The second set found #14 Carly Gonzalez on the court, newly returned after a two week hiatus. Welcome back Gonzalez!
Cuyamaca won the first point in the second set, but the Griffin women were quick to return; Brooklyn Anderson with the kill!
Cuyamaca catches some momentum and Grossmont calls the first time-out in the second set at 4-6.
#25 Nellie Escandon, freshman out of Kentridge High in Kent, WA served after the break...once, twice, three times consistently over the net. Well done! The game was tied momentarily at 7-7 in set two.
Naomi Talisa Leilua gives a flying spike into the Coyotes floor to take back the lead 8-7.
The Griffins continue the lead 18-11, but the Coyotes returned near the end of the set to close the gap 24-18. Ultimately though and without a doubt, #11 Shaney Lipscomb finished the second set with another ground breaking kill, 25-20.
Haley Morton, with 19 assists, 2 kills and 1 service aces thus far, opened the third set. The Griffins took an early lead 8-5.
The lead continued throughout the third set and the Griffins kept inching their way closer to the win.
21-10 and another Grossmont service point into 22-10. Point for Carly Gonzalez (23-10), and then another for #24 Natalie Seol (24-10).
Shaney Lipscomb served match point, but even with an incredible dig by #1 Kortney Hitt the game continued 24-11. Everyone in the gym at this point was thinking, "Who will score the final point?"
In the end it was Natalie Seol! Fantastic.
Grossmont women's volleyball continues its 8 game win streak into another conference match-up Friday, October 4 against MiraCosta college. The women are currently 5-0 in the conference (Pacific Coast Athletic).